The TAYLOR TOWER is the ultimate, universal wakeboard tower.  It will give you the look and fit of a custom tower with the latest state-of-the-art design and engineering.  The Taylor Tower looks like it was custom made just for your boat! The Taylor Tower is now available in two models. The "traditional" Taylor Tower arched back or the " NEW" Taylor Tower arched forward.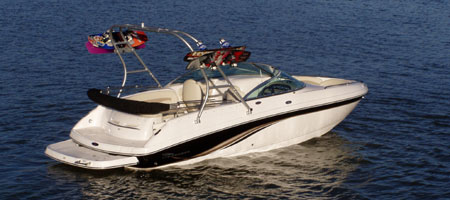 If your boat does not have a wakeboard tower—now is the time to add one.  It is the perfect addition to any boat, regardless of age, brand or model. The Taylor Tower will enhance your wakeboarding and water skiing.  The Taylor Tower is your best choice.
Available options include: wakeboard and ski racks, stereo speakers, amplifiers, head units, multiple battery charging systems and a new stern light.
Call us at 800-211-5084